Moerenuma Park, the construction of which began in 1982 and that had its grand opening in 2005, is a comprehensive park designed by Isamu Noguchi (1904-1988), one of the most influential sculptors of the 20th century. It "constitutes one sculptural work as a whole."
In collaboration with ARTSAT: Art and Satellite Project and the SIAF Lab, "Space-Moere" Project was developed to imagine extraterrestrial intelligence. Using stratospheric balloons as civic technology, the Space Moerenuma Park (space-moere) connects Moerenuma Park to the universe/multiverse.
The "Space-Moere" Project is composed of two artworks entitled Sculpture to be Seen from Space, Improvisation to be Heard from Space and Sculpture for All of the Intelligence.
In Sculpture to be Seen from Space, Improvisation to be Heard from Space, the Moerenuma Park as a "sculpture of the earth" was connected to the universe using small stratospheric balloons and remote improvisational performance named "Telecoding".
Sculpture for All of the Intelligence is a media installation to depict the encounter between Moerenuma Park and unseen extraterrestrial intelligence, speculating from both art and science. It was exhibited in the Glass Pyramid of Moerenuma park during SIAF2017 (Aug. 6-Oct. 1, 2017)
On the night of October 19, after SIAF2017, we received the code from the stratospheric balloon and realized the telecoding performance connecting the park to the universe.
In 1947, 58 years prior to the opening of Moerenuma Park, Isamu Noguchi developed the idea of a Sculpture to be Seen from Mars, which consisted of piling up earth to construct a gigantic "human face" and a nose measuring 1 mile.
By connecting the park and outer space through personal technology and media artworks, sharing its process with citizens, Space-Moere Project has succeeded in building a new civic community on the precious and large-scale artwork, Moerenuma Park in Sapporo.
It has been 30 years since Isamu Noguchi completed the master plan for the park, and his aspirations and visions continue to expand into the universe at the speed of light.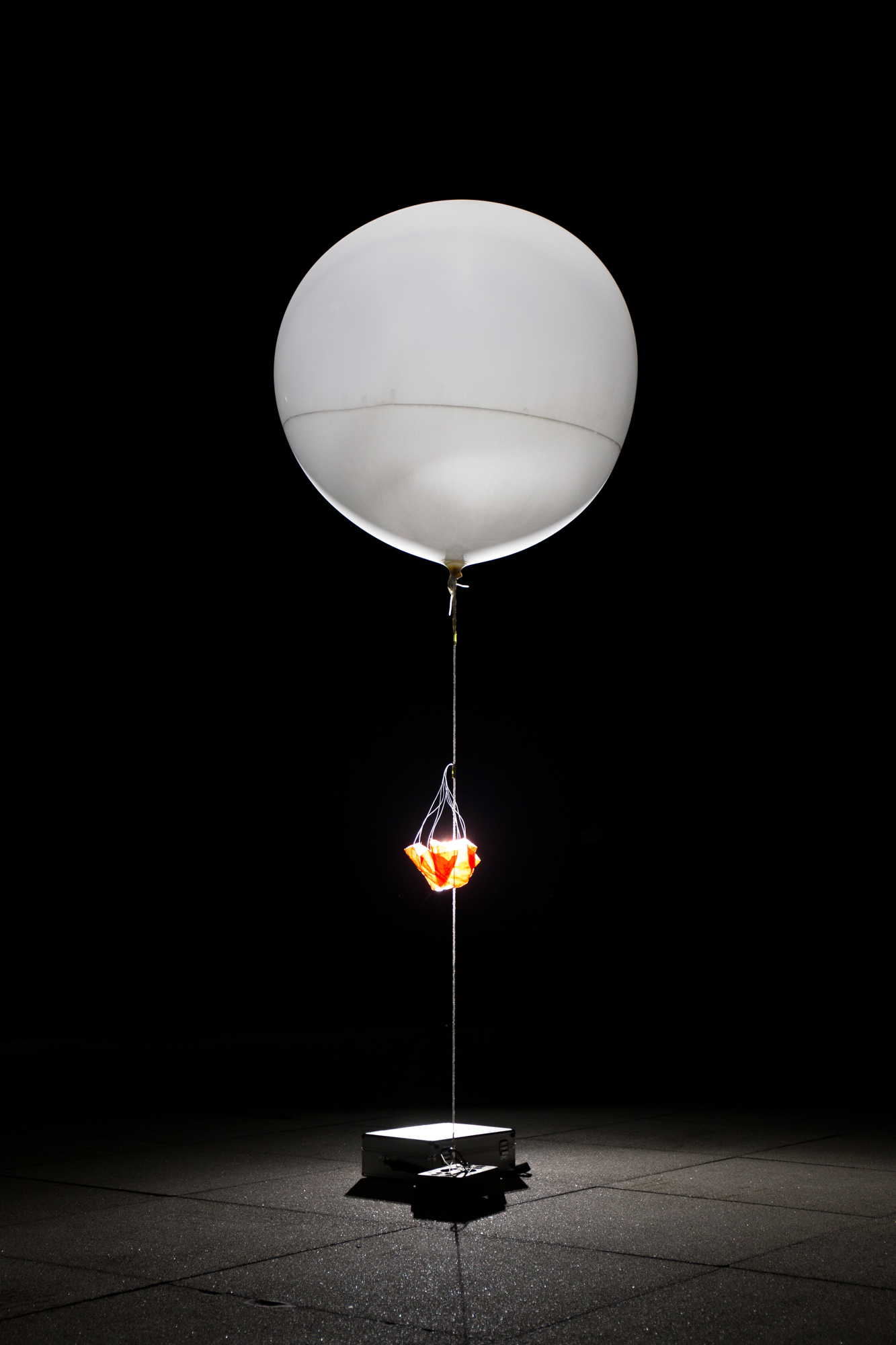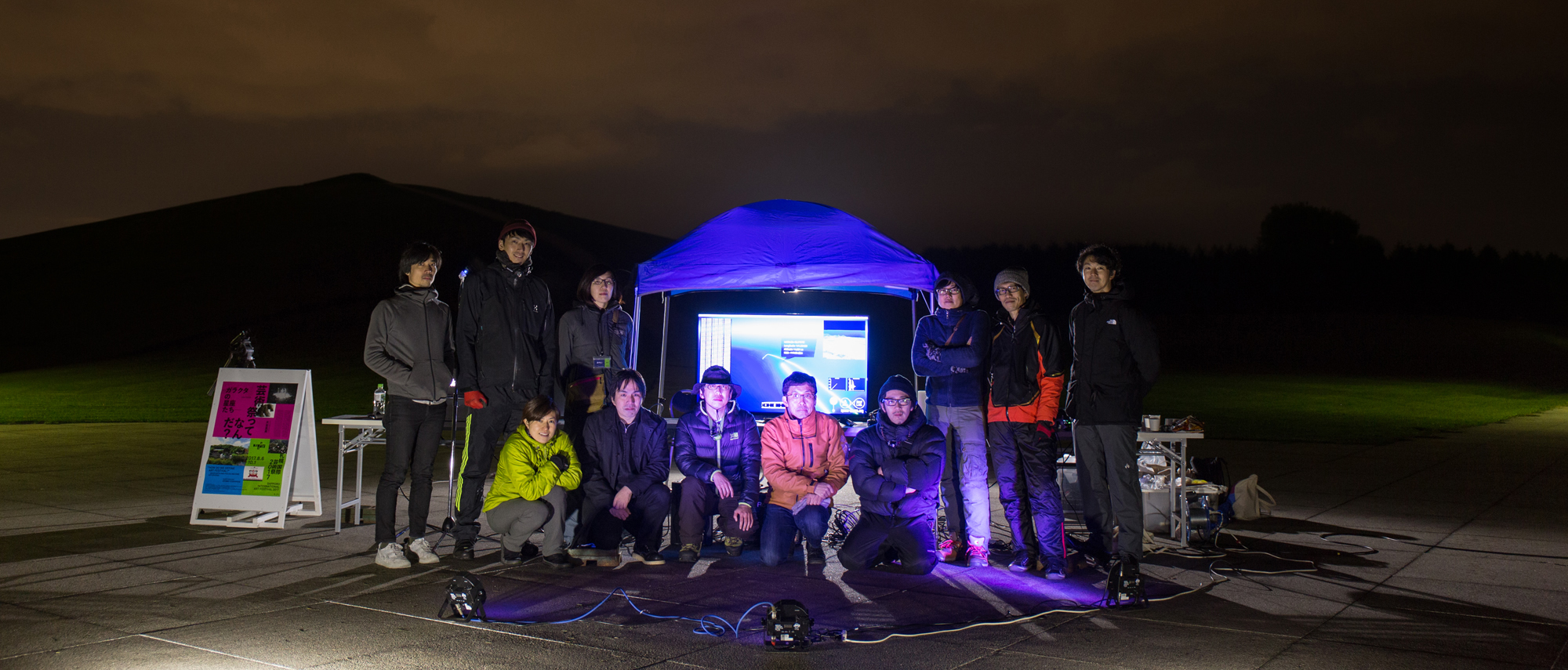 ARTSAT × SIAF Lab.
Since 2010, ARTSAT: Art and Satellite Project in collaboration with Tama Art University and the University of Tokyo has been promoting the cultural and artistic use of the universe with the motto "Satellites as media." In February, 2014, the world's first art satellite "ARTSAT 1: INVADER" was launched, and in December of the same year "ARTSAT 2: DESPATCH," a deep space sculpture capable of leaving the gravitational sphere of the earth was launched into heliocentric orbit at the same time as the "Hayabusa 2." Through manipulations of the onboard software that acts as one's agent while in orbit and in deep space, several missions have now been completed like music and poetry generations, interactions with the satellites' AIs, and sending of messages using speech synthesis. With the cooperation of amateur radio operators around the world, radio waves from the "ARTSAT 2: DESPATCH," 4.7 million kilometers away (approximately 12 times the distance from the moon), have been received. ARTSAT team won the Award of Distinction in the Hybrid Art category of the Ars Electronica 2015.
The "SIAF Lab," established in 2015, conducts most activities in the "SIAF Lounge" and "SIAF Project Room" at the Sapporo Shiryokan, where citizens can get to know Sapporo and support the Sapporo International Art Festival through its discovery and transmission. The SIAF Lab conducts civil collaborative projects such as art-related lecture series and the "Bent Icicle Project – Tulala," and its main focus is on using "creative coding," the practice of expressive performance using software, to explore the creative possibilities in programming through interactive workshops and exhibitions and to share these experiences with as many children and adults as possible.
An unprecedented collaborative art project, in which various elements are connected and intertwined, is now being developed for cross-cultural and interdisciplinary exchange that combines Moerenuma Park with the "Space-Moere" Project.
ARTSAT - http://artsat.jp/
SIAF Lab. - http://siaf.jp/siaflab/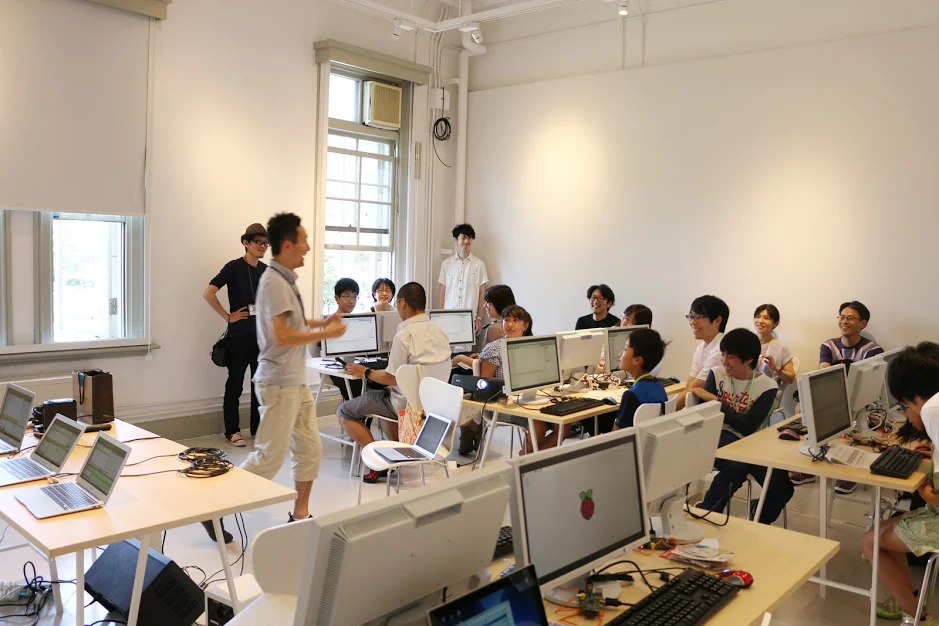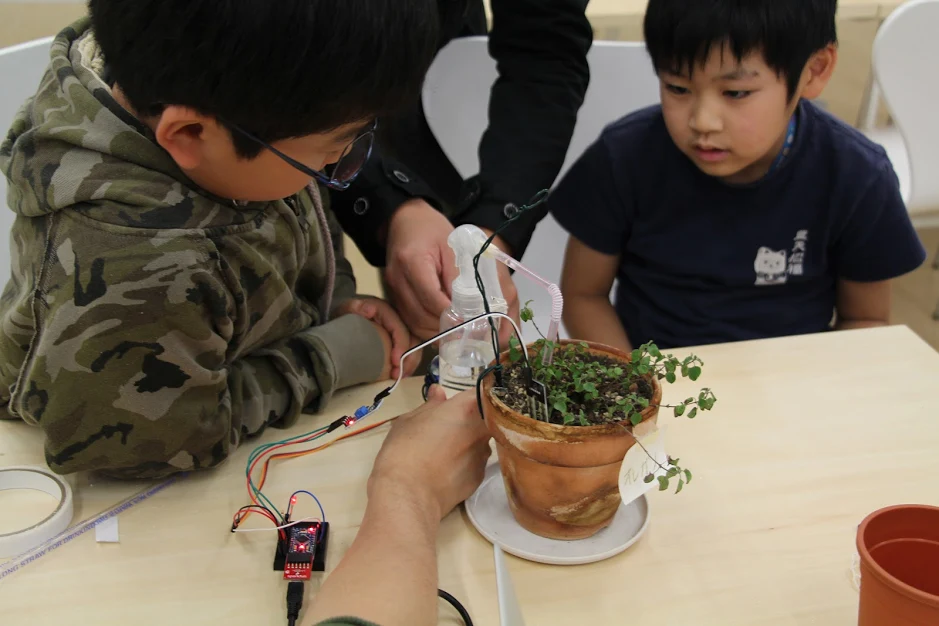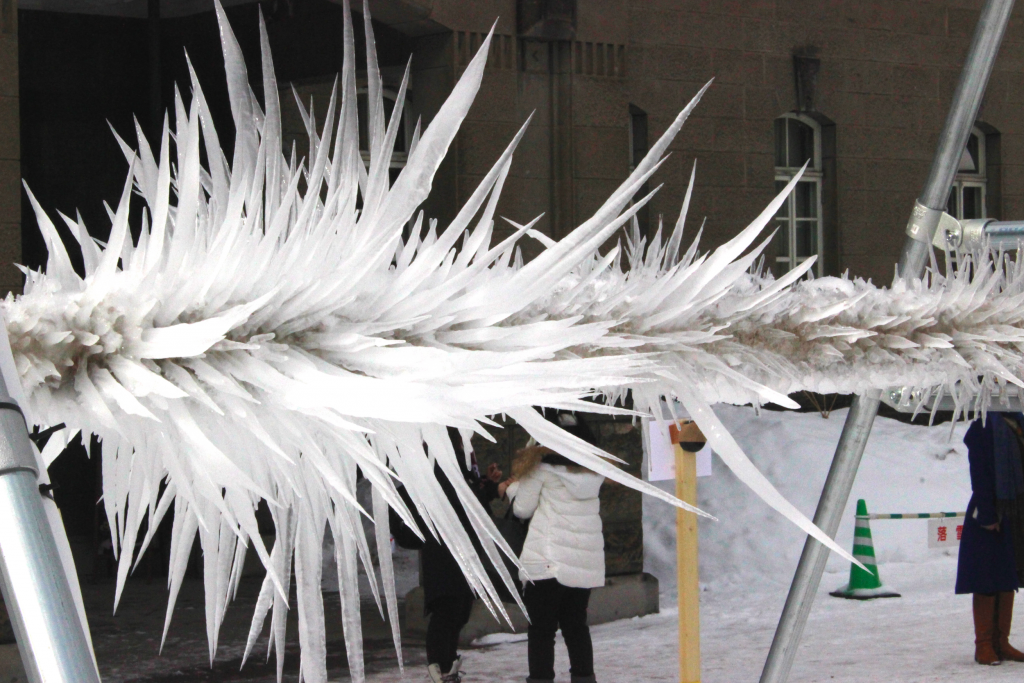 Moerenuma Park is a comprehensive park in Sapporo that is intended to be the base of the "Circular Greenbelt Concept" that combines the green spaces of the city of Sapporo within a loop. Construction commenced in 1982, and the park had its grand opening in 2005. Sculptor Isamu Noguchi created the basic design based on the concept of "the whole being a single sculpture."
The fountain and hills form many geometric shapes in the expansive grounds, facilities for play equipment and so forth are arranged in an orderly manner, and the landscape can be enjoyed as a fusion of nature and art. Cherry blossoms bloom in the spring, and the fountain and wading pool facilities are open to make for a refreshing Sapporo summer. Fall brings foliage, and you may enjoy cross-country skiing and sledding across the snow-covered landscape during winter. The park has attractions for all seasons.
In addition, the park was converted from a waste treatment plant, and an air-conditioning system was installed in the Glass Pyramid, an indoor facility, that uses the natural, region-specific energy of snow. It is also an attraction from a nature conservation perspective.
Born in Los Angeles, 1904, and died in New York, 1988. Isamu Noguchi was a son of Yonejiro Noguchi (an Anglicist and poet) and Léonie Gilmour (a teacher and editor), and spent his childhood in Japan. After studying in the United States with the hope of becoming a sculptor, he traveled and learned in Asia and Europe, and worked in Paris as an assistant of sculptor Brâncuşi. Then, while working as a sculptor based in New York, he was engaged in a variety of activities, including furniture design, stage art work and landscape design for gardens and playgrounds. After the Second World War, he often visited Japan, to which he had a strong connection, and created ceramic sculptures and designed Akari lanterns using Japanese paper. He collaborated in the planning of Moerenuma Park in 1988, and designed the park as if it were a single sculpture. His design was taken over after his death, and the one-of-a-kind art park was completed in 2005.
2017
Space-moere project started. Sapporo International Art Festival 2017 opening.
2015
SIAF LAB. started.
2014
ARTSAT 1: INVADER, ARTSAT 2: DESPATCH launch. Sapporo International Art Festival 2014 was held.
2010
ARTSAT project started.

2005

Sea Fountain completed. Grand Opening Ceremony held.
Mt. Moere completed. 100th Anniversary Celebration for the birth of Isamu Noguchi.

2003

The Glass Pyramid completed. A ceremony to celebrate the completion of the Glass Pyramid held. Construction of Sea Fountain begins.

2001
Development of Mt. Moere begins.
2000
Amphitheater completed. Constructions of the Glass Pyramid begin.
1999
Ball Park completed.

1998

Aqua Plaza and Moere Beach completed. First Opening ceremony of Moerenuma Park held.

1997

Development of Aqua Plaza begins.

1996

Play Mountain, Tetra Mound and Music Shell completed.

1995

A part of Moerenuma Park opened. Moerenuma Park Urban Park Ordinance announced.

1994
Development of Moere Beach begins.

1993

An athletic track field and tennis courts developed.

1992
Hokkaido Regional Development Bureau completes the dredging operation of Moerenuma. Black Slide Mantra set up at Odori Park, Sapporo.
1991
Development of Play Area begins.

1990

The Moere Waste Disposal Center closed. Development of Play Mountain begins.

1989

"Outline of Moerenuma Park Design Concept" prepared.

1988

Isamu Noguchi visits Sapporo. Begins Master plan for Moerenuma Park, Sapporo.
Dies in New York on December 30.

1987
Development of full-scale foundation begins.

1985

Sapporo Area Urban Plan Greenery master Plan developed.

1984

The site preparation.

1983
Development of Lawn Area and Cherry Forest begins.

1982

Developed of the site for Moerenuma Park begins. Decision made to develop Moerenuma Park as a city planning park. Former "City of Sapporo Greenery Basic Plan" developed. As a result of the combination of Shinoro-Shinkawa River and Kariki-Shinkawa River into one first-class river, Moerenuma becomes a temporary storm-water reservoir with a capacity of 1.92 million tons of water due to a water-control project.

1981
Basic design of Moerenuma Park developed.
1979
Moere Waste Disposal Center begins operation. Carry-in of non-burnable waste commences. Basic Plan of Morenuma Park made. Hokkaido Regional Development Bureau starts dredging operation of Moerenuma as part of comprehends water-control project of Fushiko River.

1977

As part a cleaning project, the site acquisition begins for the establishment of the Moere Waste Disposal Center (terminal waste disposal site) on the premise that it can be used as a park in the future. "City of Sapporo Greenery Promotion Ordinance" established.

1976

Local citizens request that the interior part of Moerenuma be made into a park.

1973
"Sapporo City Afforestation Policy Outline "developed. Current Moerenuma Park positioned as an urban environmental park (waterfront recreation place) in this outline.

 

1947
Noguchi plans Sculpture to be seen from mars (unrealized).
1933
Noguchi works on models for his earliest large-scale projects, including Monument to the Plow, Play Mountain(unrealized).
1904
Isamu Noguchi is born at Los Angeles, California.