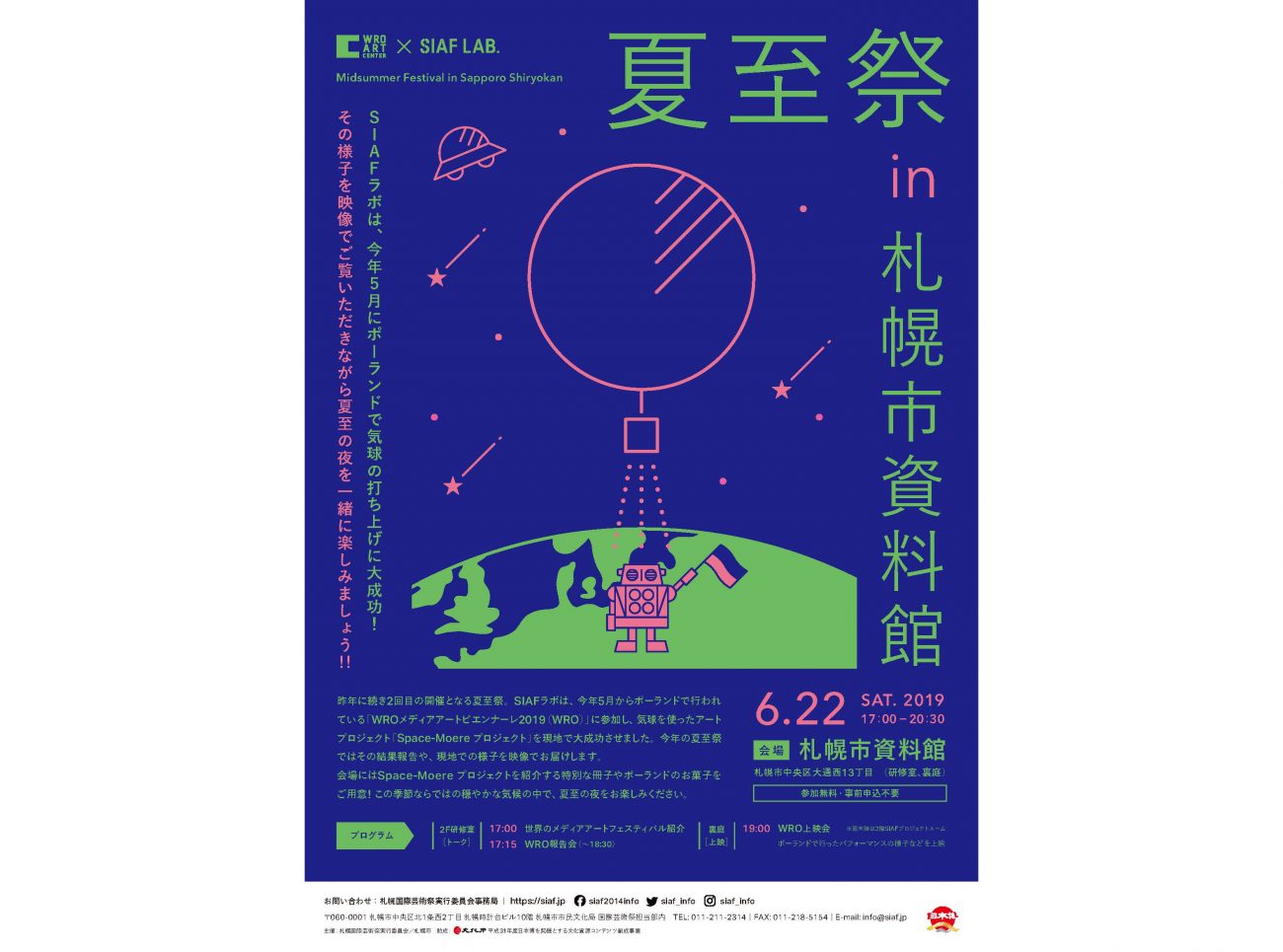 Midsummer Festival in Shiryokan
It is the second anniversary of the Midsummer Festival following last year.
SIAF Lab participated in the "WRO Media Art Biennale 2019" held in Poland in May of this year, and made a successful balloon-based art project "Space-Moere Project" locally.
On the day, the results will be reported and the archive video will be shown.
At the venue, we will prepare special booklets and Polish sweets to introduce the Space-Moere project! Enjoy the summer solstice night while enjoying the mild climate unique to this season.
Space-Moere Project "Summer Solstice in Sapporo City Museum" Special page is here https://space-moere.org/midsummer/
Event Details
【Date and time】
June 22, 2019 (Sat) 17:00 – 20:30
【Venue】
Shiryokan(Former Sapporo Court of Appeals) Training Room / Backyard
(13th Street, Odori Nishi, Chuo-ku, Sapporo City)
※ Admission free Pre-application not required
※ Rainy day (However, part of the program will change.)
○ Program I: Lecture (Venue: Sapporo City Museum, 2nd floor, training room)
17:00 – 1st part: Introduction of the World Media Art Festival WRO, including many media art festivals, are held in the world. We introduce the present conditions of Festival that we want to go to once.
17:15 – Second part: Report session-quite difficult exhibition and performance achievement- We introduce the details of the two projects that SIAF Lab has developed with WRO, with local problems and back stories. It is a valuable opportunity to be able to know the real of exhibitions in foreign countries!
Paneler: Satoshi Komachidani, Katsuya Ishida, Daisuke Funato (SIAF Lab Project Director) + Special Guest (Planned)
Moderator: Hosokawa Asami (Sapporo International Arts Festival Secretariat General Manager) Resting / 1st floor SIAF Lounge Polish sweets Offers!
○ Program II: Outdoor screening meeting (Venue: Sapporo City Museum backyard) * In case of rain, it will be changed to the training room.
19:00 – WRO Biennale Opening Performance? ! We will show you how the actual performances were held locally.
20:30-scheduled to finish